Discover the functionalities of our salon management software
Logicake makes managing your hairdressing or beauty salon simple and efficient. Take control of your business so you have more time for your customers.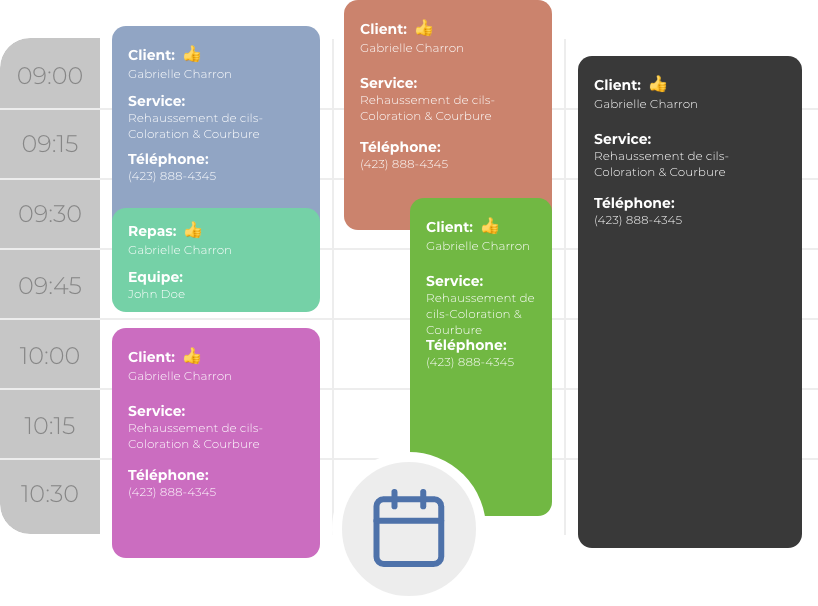 Appointment management
With our Logicake calendar, you can easily manage your availability and appointments. In just a few clicks, you'll have a clear picture of your day, week or month.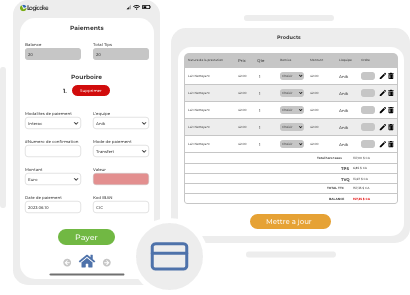 Payment system
Just a few clicks and your customers will be invoiced! Track your sales by creating customised sales reports by employee and/or branch.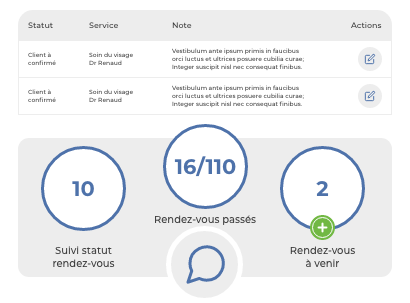 Customer files
Keep all your customers' information in one place. In just one click, track their appointment history and add notes and photos to the file. Classify customers by type or branch.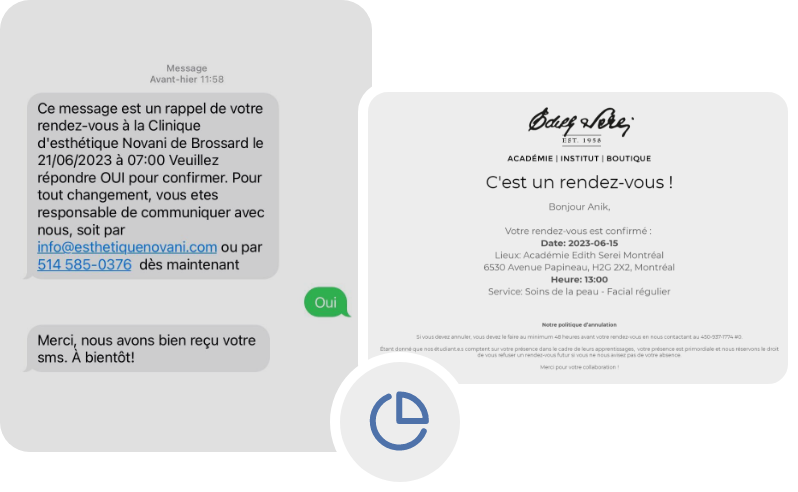 Appointment confirmation
No more missed appointments. A text reminder can be scheduled 48 hours before the appointment. Follow-up of confirmed appointments with a confirmation icon directly in the appointment.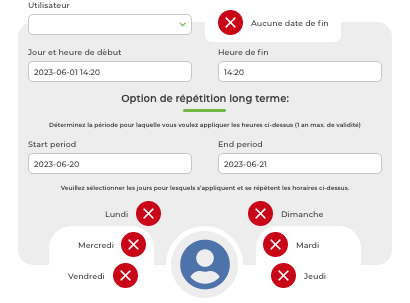 Personnel management
You can manage your staff's schedules by branch and track each employee's leave effortlessly. You can add a time clock to track the hours of each employee.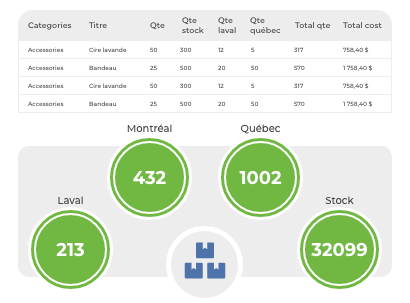 Product inventory management
With Logicake, take advantage of detailed inventory reports and a list of inventory movements in the same software as your appointment bookings!
Your Logicake transformation has never been easier
We'll work with you to ensure that your salon management platform looks and feels just like you!
Migration
We can help you with migrating your data to Logicake
We understand the critical importance of transitioning your data to our platform, which is why we offer support for your data migration, ensuring a hassle-free experience. Our dedicated team of experienced professionals will work hand in hand with you. With Logicake, your data migration becomes a perfectly orchestrated step in your journey to greater efficiency and improved service.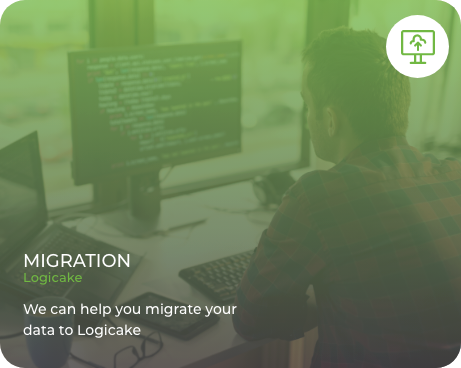 Formation
We offer comprehensive training for you and your staff
We firmly believe that successful adoption of the Logicake platform relies on a thorough understanding of its functionality and capabilities. Whether it's for your operational, customer service or management teams, we are committed to equipping you with the skills you need to excel using Logicake. Your success is our priority, and our commitment to comprehensive training is tangible proof of this.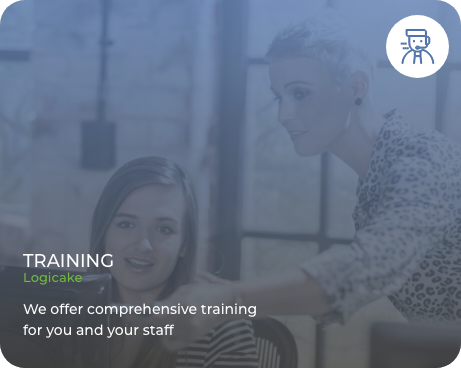 Customisation
You'd like a feature that doesn't exist, we can make it happen
With Logicake, the possibilities are almost limitless. Whether you're looking to integrate industry-specific functionality or build bespoke solutions, our development team is ready to work with you to turn your ideas into reality and help you stay ahead in the ever-changing aesthetics industry.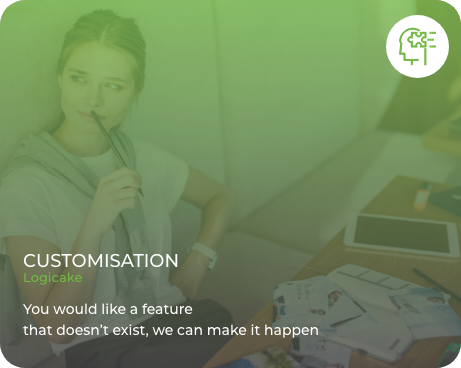 A small fee for simpler salon management!
The total price of our platform includes implementation and a monthly subscription. The price of the implementation includes a personalised installation to match your company's colours, as well as support for data migration and a half-day training session to ensure that you are self-sufficient afterwards.
The total cost of implementation is $1,000 and is a one-off fee.
Logicake Aesthetics monthly subscription price
1 user access
Ability to send 1,000 e-mails per month
500 SMS sent per month
2 GB web hosting
Updating the platform
30 minutes of support per month
Appointment management
Appointment confirmation
Customer data sheets
Personnel management
Payment system
Product inventory management
Additional charges
At Logicake, we understand that your business needs evolve, which is why we offer flexibility with our subscriptions, and the only additional costs you may face are related to your specific usage.
You can extend the benefits of Logicake to an unlimited number of participants.
Email limit exceeded
If you exceed 1,000 e-mails per month, you will be billed for the additional number sent per month.
Accommodation overrun
If you exceed the 2GB of space included, you will be billed according to your specific consumption.
Prices according
to additional space
SMS limit exceeded
If you exceed 500 SMS per month, you will be billed for the additional number sent per month.
Additional support hours
We recommend a few hours' support to configure your platform properly and optimize its use.
Additional support hours
We recommend a few hours' support to configure your platform properly and optimize its use.
F.A.Q !
We answer the most popular questions.
Do I need computer skills to use Logicake?
No, you don't need in-depth IT knowledge to use Logicake. The platform has been designed for people with any level of IT skills to make their day-to-day lives easier.
How long is the training course?
The Logicake platform has been designed to be intuitive and quick to understand. Thanks to its ease of use and user-friendly interface, you can master Logicake's functionalities in record time. Throughout the implementation, you will be trained at every stage. What's more, a training centre and technical support are at your disposal so that you can feel completely at ease managing your platform.
Can I access the platform on my phone or tablet?
Yes, you can access the Logicake platform from your phone or tablet. Logicake is designed to be compatible with mobile devices, so you can take advantage of its functionalities wherever you are and whenever you want.
How is the platform updated?
Updates are automatic, so the platform updates itself when you log on, so there's no need for you to take any action, such as downloading and installing a new version of the application.
Can I connect the forms on my website to the Logicake platform without my website being made by Logicake?
Yes, in order to centralise all your online operations, we can link all the forms on your website. Whether it's a contact form or a subscription to your newsletter, any request via your website can be linked to the Logicake platform to facilitate customer creation.
Do you offer online appointment booking?
Yes, Logicake does give you the option of offering online appointment booking to suit your needs. You can define available time slots, allow users to choose their preferred time slot and receive notifications for new appointments.
I'd like to have a feature that doesn't exist, is it possible to create it?
Yes, if you have an idea for a feature that doesn't yet exist on the platform, you can submit it to the development team. Please note that the process of developing a new feature can take time and will incur additional costs depending on the complexity of the feature.
DO YOU HAVE ANY QUESTIONS ABOUT LOGICAKE ESTHÉTIQUE?
Write to us to arrange a demo session or to find out more about what Logicake can do for your hair or beauty salon. We look forward to helping you optimize your management!