Exactly what you need
to run your salon.
With Logicake
find time for everything
It's time to end the daily race against time. It's time to adopt a tool that will streamline and speed up your work. A little automation is exactly what you need. With Logicake - the best software for your salon and practice - you'll forget what tedious tasks are!
Smart calendar view.
Unlimited creation, modification and cancellation of appointments.
Notification and comment system.
Display of projects and tasks in the calendar.
Deadline control and approval/archiving of tasks.
Manage your salon in an efficient and practical way
Product management can be easy and fun. With our salon management software, you'll create a happy and motivated team. You can easily take control of your billing, inventory and equipment. - from anywhere in the world and from any device.
Clear product management interface
Access to statistics and reports
Efficient employee management
Attract customers to the salon with easy site management.
Une communication rapide et efficace avec vos clients sera votre atout, et les outils de marketing modernes vous aideront à bâtir votre réputation. Grâce à eux, vous gagnerez et conserverez la fidélité de vos clients. Pariez sur une promotion efficace et voyez comment votre agenda se remplit grâce à Logicake.
Gestion simple des pages
Des éléments faciles à modifier.
Améliore considérablement la visibilité en ligne de votre salon.
Prenez soin de vos clients, tout est organisé.
Prenez soin de vos clients, tout est en ordre.aVotre salon peut fournir une qualité de service sans précédent. Avec Logicake, vous ravirez vos clients par votre mémoire fiable et votre excellente connaissance de leurs besoins. Vous pouvez facilement cultiver une relation positive avec eux et faire en sorte qu'ils vous aiment dès la première visite.
Possibilité d'enregistrer des informations supplémentaires
Des outils pour renforcer les relations avec les clients
Gestion efficace des clients
Des menus simples et clairs pour rendre
votre travail agréable.

4 règles simples pour votre nouvelle réalité.
Gestion simple et fonctionnelle des paiements.
Des paiements rapides et transparents directement dans notre système Logicake. Gestion simple des services, des listes et du suivi des factures payées ou non. Tout pour que vous sachiez tout rapidement et facilement et que vous ne manquiez de rien dans la gestion de votre salon.
Système de paiement
Notifications par e-mail et sms
Suivi et gestion des factures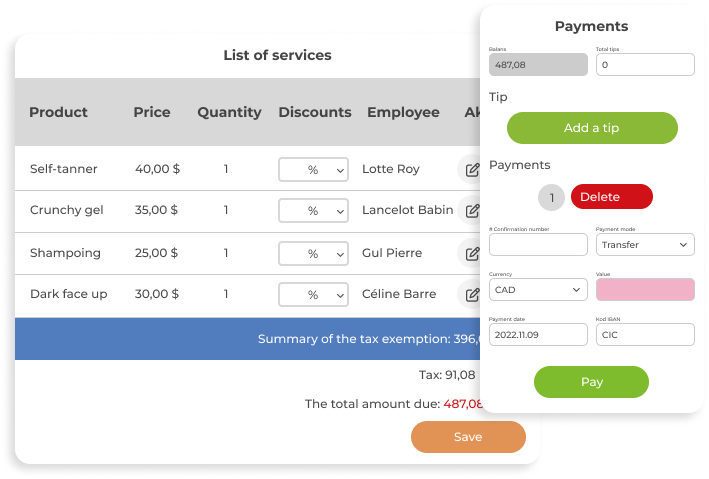 Restez en contact avec vos clients à tout moment.
Avec Logicake, vous serez toujours tenu informé. Notre système vous offre des notifications par courriel et par SMS, afin que vous ne manquiez jamais un client. Avec Logicake, vous pouvez facilement et agréablement savoir ce qui se passe partout dans le monde.
Notifications par Email
Notifications par SMS
Système de messagerie
Gestion simple de l'historique des messages
Déjà plus de 100 professionnels
de la beauté et plus utilisent Logicake
Words from
users
Logicake is the basis of my business. I use it for my accounting, for making appointments, for everything. Before, I used to do all my appointments on paper. We really like the access to the software for the employees on the mobile and give them access to their schedules. For us, Logicake is synonymous with efficiency.
Logicake has saved us a lot of time and paperwork. Now we can focus more on the kitchen, employees, family and ourselves! We love the whole product and the user support. I recommend it to all new and small businesses.
Logicake is the portal that guides us and gives us access to our customers. Since its installation, we do not use traditional emailing anymore, now everything goes through Logicake, it's more secure and more efficient. We strongly recommend it to all companies that want to have a portal that reflects their image.
We have been using Logicake for several years and for us it is an essential tool and it has erased the usability challenges we had with Excel. We especially appreciate the customer and production tracking. I recommend Logicake for its stability, reliability and efficiency.
Try the Logicake
platform for free