Exactly what you need
to run your salon.
With Logicake
find time for everything
It's time to end the daily race against time. It's time to adopt a tool that will streamline and speed up your work. A little automation is exactly what you need. With Logicake - the best software for your salon and practice - you'll forget what tedious tasks are!
Smart calendar view.
Unlimited creation, modification and cancellation of appointments.
Notification and comment system.
Display of projects and tasks in the calendar.
Deadline control and approval/archiving of tasks.
Manage your salon in an efficient and practical way
Product management can be easy and fun. With our salon management software, you'll create a happy and motivated team. You can easily take control of your billing, inventory and equipment. - from anywhere in the world and from any device.
Clear product management interface
Access to statistics and reports
Efficient employee management
Attract customers to the salon with easy site management.
Fast, effective communication with your customers will be your trump card, and modern marketing tools will help you build your reputation. Thanks to them, you'll win and keep the loyalty of your customers. Bet on an effective promotion and see how your diary fills up thanks to Logicake.
Simple page management
Elements that are easy to modify.
Significantly improve your salon's online visibility.
Take care of your customers, everything is organised.
Take care of your customers, everything's in order. Your salon can provide an unprecedented quality of service. With Logicake, you'll delight your customers with your reliable memory and excellent knowledge of their needs. You can easily cultivate a positive relationship with them and make them love you from the very first visit.
Possibility of recording additional information
Tools to strengthen customer relations
Efficient customer management
Simple, clear menus to make your
your work enjoyable.

4 simple rules for your new reality.

Functionnal
Menus
From the main menu, you can access all the modules you need for your day-to-day work.

Extended
Modules
Each module has subordinate elements, so they're always close at hand.

Quick and
Easy access
Menus that are always visible and easily accessible from any level of the Logicake application.

There's always room
You can always add extra modules to make your work easier.
Simple, functional payment management.
Fast, transparent payments directly into our Logicake system. Simple management of services, lists and tracking of paid and unpaid invoices. Everything you need to know quickly and easily, so you don't miss a thing when running your salon.
Payment system
E-mail and SMS notifications
Invoice tracking and management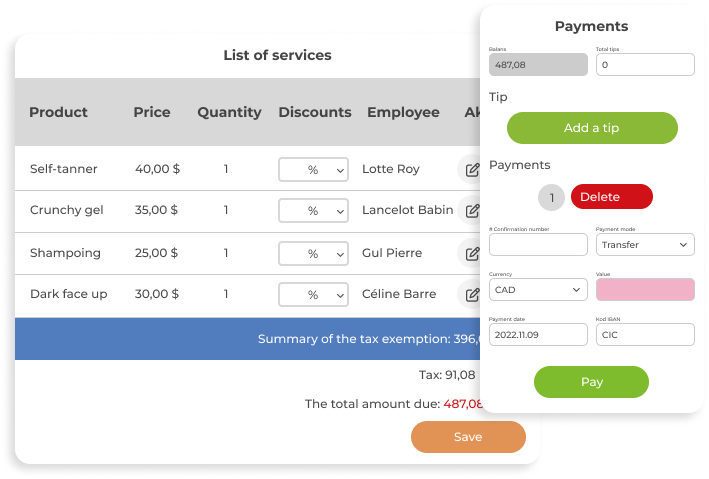 Stay in touch with your customers at all times.
With Logicake, you'll always be kept informed. Our system offers you email and SMS notifications, so you never miss a customer. With Logicake, you can easily and pleasantly find out what's going on anywhere in the world.
Email Notifications
SMS Notifications
Messaging system
Simple message history management
Already more than 100 professionals
and more use Logicake
Try the Logicake
platform for free